Transform Your Home with Wood Look Tile in Orlando, FL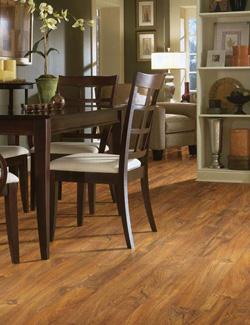 Hardwood is a popular flooring option; many homeowners wish they could have it throughout their entire property. However, wood's natural absorbency makes it unsuited for humid or moist conditions and thus a bad choice for kitchens, bathrooms, and so on. Fortunately: there's an effective alternative: wood look tile.
When you picture tile, you most likely think of a stone-like appearance, but there are tile styles designed to mimic both the appearance and texture of wood. At Flooring America, we're proud to offer one of the widest selections of wood look tile in Orlando, FL. Visit our showroom to see these unique surfaces first hand; you'll be surprised at just how closely they resemble hardwood. In fact, many people cannot tell the difference without close examination.

Find Your Ideal Surface
Do you love the deep brown of walnut or do you prefer the lighter appearance of maple? Perhaps you prefer oak, hickory, or another wood species entirely. No matter what your favorite hardwood style may be, there is a tile alternative for you. Modern manufacturing innovations allow companies to create wood plank porcelain tile and ceramic tile that mimic any wood species, stain, or finish. Explore our store to discover the perfect product for your home improvement project.
Many of our clients aren't sure what type of surface would best suit their design goals. That's where our knowledgeable team members step in. Simply tell us your stylistic preferences, performance expectations, and price range, and we'll match you with suitable flooring. Our mission is always to help you find your ideal surface and transform your home.

The Advantages of Tile
Wood plank ceramic tile and porcelain tile products aren't just beautiful; they offer a lot of practical benefits as well. Perhaps the most important advantage to tile is how easy it is to keep clean; all you need is routine sweeping and mopping. With some extra, occasional maintenance like grout cleaning, your tile floor will look like new even generations after installation. Talk to our team to get brand-specific care instructions.
Property owners in the Sunshine State also love tile for its cooling abilities. Tile stays cool more easily than other flooring options, making a noticeable difference during the hottest months of the year. With a ceramic wood tile or porcelain tile floor in place, you may even notice a small decrease in your energy bills since you'll be relying less on your AC to keep you comfortable.


Contact us to learn more about our diverse selection of wood-alternative tile. We proudly serve clients from throughout Orlando and Winter Park, Florida, as well as the surrounding communities.