Waterproof Flooring in Orlando, FL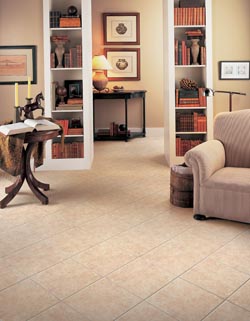 Spills and splashes are no threat to our innovative waterproof flooring in Orlando, FL. Advancements in flooring manufacturing have empowered the industry to design floors that are made for moisture-prone spaces. The perfect place to find all manner of waterproof floors in our area is at our store.
Kitchens, bathrooms, and basements all need floors that can stand up to water. If your house includes children or pets, you may require this in even more rooms than those. We offer you exactly the right waterproof luxury vinyl flooring with colors, patterns, textures, and styles you'll love. They can be made to look like rich and beautiful materials such as ceramic, wood, and natural stone. Plus, we're able to make them available at reasonable rates thanks to our impressive buying power.


The Advantages of Waterproof Vinyl Flooring
Our waterproof vinyl flooring selections give you both the durability you need and the look you like, plus a softer feeling under your feet. The specially designed cores keep it from rotting, degrading, expanding, or allowing liquid to seep into the subfloor. It's also easy to maintain with just a sweep and a mop. You never have to worry about a dropped drink or your child splashing water; our floors can take it.
We carry name-brand varieties like Tigressa and Downs, and much of these can handle even heavy levels of foot traffic. This makes them perfect for parties, busy households, and playdates. You can let your kids, pets, family, and friends have fun without worrying about your floor being damaged, making our store the ideal resource for your next project.


Enjoy Peace of Mind with Our Waterproof Carpet
Accidents happen, and we believe you shouldn't have to fear ruining your floor when they do. When you buy carpet from us, you're protected from spills and pet accidents thanks to our stain-resistant material. They never allow water to penetrate the floor beneath them and offer a level or protection that the competition can't.
There's no need to keep spending money on stain guards and rug or carpet cleaners when there's an easier and more reliable method. Rather than trying to clean up carpet stains, why not simply invest in the kind of carpet that doesn't get stains? All you have to do is wipe up the spills or soak them up with a towel. You never need to worry about it getting to the subfloor or causing mold or damage.



Contact us and we'll schedule you a free consultation. We work with homeowners from Orlando and Winter Park, Florida, and the nearby communities.