Keep Life's Messes from Seeping In with Waterproof Flooring in Orlando, FL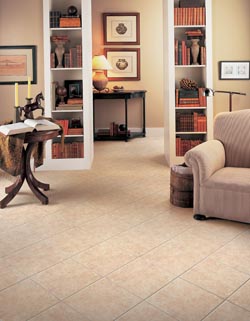 Sometimes, it may feel as though stains and spills are all but impossible to avoid. When your household is full of occupants that are always on the move, messes are inevitable. Should the challenges of daily living as spills in your living or dining room, your flooring shouldn't suffer as a result. You deserve a flooring material in your home that's easily capable of helping you rebound from life's little messes. When you need a flooring choice that's sure to stand strong against accidents, spills, and stains, visit Flooring America of Orlando for waterproof flooring in Orlando, FL.
There's nothing quite as charming as the look of new flooring in your home. However, trying to keep your new floors looking clean and beautiful can feel like a fruitless endeavor when you have children and pets running about. When you fit your space with one of the many high-performance flooring selections from our fully stocked showroom, you'll have a flooring solution that can handle whatever lies in store and still maintain its appeal.
From waterproof carpet to waterproof vinyl flooring, those who step foot in our expansive showroom will find no shortage desirable flooring materials for their indoor space, no matter what its shape or size. Visit our showroom to find a beautiful selection that will surely satisfy your every aesthetic and performance need.
Enjoy Incredible Ease of Cleaning with Waterproof Floors
When you have children and pets on the move, the performance demands of your flooring can be large. The last thing you want to concern yourself with is how well your flooring will fare as you and family go about your day. That's why having waterproof flooring that's fully capable of withstanding whatever life throws its way is an invaluable comfort. With one of our water-resistant flooring selections in your home, water and moisture never have to be a troubling concern. Following a spill, simply using a mild detergent and either a washcloth or mop is all it takes to keep your flooring looking like new.
Trust Us for Waterproof Carpet Installation
At our showroom, we have an impressive assortment of brands and styles available, so homeowners of any taste or preference are sure to find a suitable choice. Best of all, when you put your installation services in the hands of our skilled crew members, you can have complete confidence that every inch of your waterproof flooring will be perfectly placed. Simply ask one of our knowledgeable associates for samples of any of our water-resistant flooring and we'll help you take your remodeling project in a bold, new direction.
Contact our showroom for more information about our high-quality flooring selections. We proudly serve homeowners in Orlando and Winter Park, Florida, as well as the surrounding areas.