Luxury Vinyl Tile in Winter Park, FL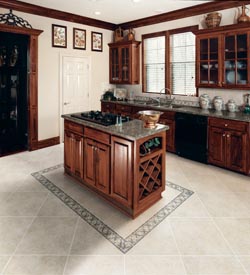 Broaden your design horizon when you start your next home improvement project with a visit to Flooring America of Orlando. You deserve to live in the home of your dreams, so you should take advantage of the flooring options and design assistance we offer. Luxury vinyl tile in Orlando, FL, is a wonderful product to consider. Vinyl is water resistant and provides greater give underfoot, which make is more comfortable. Plus, the manufacturing process results in a floor that features the performance of vinyl and the appearance of traditional hardwood, slate, and stone.
Incorporate an LVT floor into your home and minimize the jarring sounds and echoes that come with an active family. Both commercial and residential customers are sure to find what they need at our showroom. You can improve the resale value of your home and make your business a place that leaves a lasting impression on clients and employees alike.
Visit our showroom today to learn about what makes luxury vinyl such a unique product and identify a product that fits all of your needs. Our 5 Star Selection System helps you identify a flooring product that you want with the guarantees and installation warranties you need.


Wood-Look Luxury Vinyl Tiles
When you need the warmth and charm of hardwood flooring in your laundry room and basement but need a more water resistant material, the solution is a luxury vinyl tile floor. As great as hardwood flooring is in places like your dining room or bedroom, areas with higher levels of humidity need a greater degree of endurance.


Convenient Luxury Vinyl Tiles Floor Installation
Talk to a design consultant at our flooring showroom to see how they can match your existing design plan with a flooring product you love. Luxury vinyl offers the best of both worlds. The product is easier to clean, and the stunning look is sure to leave a lasting impression with guests.
Luxury vinyl planks and tiles are manufactured to exacting standards. They are designed to withstand decades of foot traffic and daily spills. In the hands of a trained installation specialist, these flooring tiles and planks can be installed above a variety of existing floor products. Choose us when you need an authorized contractor for the installation of your new flooring and get the functionality and appeal you deserve. We go the extra mile to ensure your flooring is installed in accordance with the manufacturer's warranties.



Contact us today to see how luxury vinyl tile can accentuate your existing décor. We proudly serve customers in Orlando and Winter Park, Florida, and surrounding communities.