Luxury Vinyl Flooring in Orlando, FL
Make every room in your home stand out for all of the right reasons when you shop at our local showroom for your materials. Carr's Flooring America features a wide variety of stylish and durable luxury vinyl flooring in Orlando, FL, for homes and commercial spaces throughout the Orange County region. With our professional luxury vinyl flooring installation, you will transform the look of your residence with ease. Our goal is to beautify every room in your home, including your bedroom, kitchen, or bathroom. Visit our Orlando, Florida, showroom today to discover luxury vinyl products in a wide range of styles, colors, and patterns to fit every taste!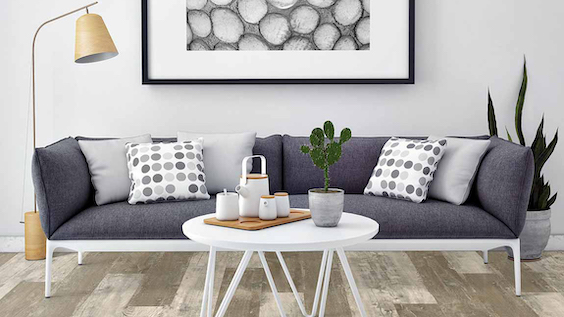 Types of Luxury Vinyl Flooring at Our Local Store
When you are ready for a change in your home, you may be tempted to perform a complete remodeling project. The truth is, you can achieve a bold new look by simply changing out your flooring. When you choose luxury vinyl tile, you will create a new atmosphere in any room. Available in a variety of different colors and patterns, luxury vinyl floors can be used to mimic the look of high-end flooring materials like tile and hardwood.
Carr's Flooring America is proud to offer trusted luxury vinyl flooring brands including Coretec, Mannington, Twelve Oaks, Parkay, Robbins, Trucor, and Next Floor. We carry a full range of options to fit even the pickiest homeowner in the following types of rigid core flooring:
Stone Polymer Composite (SPC) Luxury Vinyl Floors
This type of luxury vinyl flooring is composed of a limestone plastic core for enhanced durability and waterproof performance. This rigid core is perfect for high-traffic areas or rooms with high exposure to moisture. Our SPC vinyl floors are available in a variety of realistic wood and tile looks to bring you versatility in style.
Wood Polymer Composite (WPC) Luxury Vinyl Floors
Composed of wood products and plasticizers, this sturdy luxury vinyl flooring type offers a rigid core. Enjoy long-lasting performance in any room with resistance to dents, impact, fading, scratches, moisture, and anything your active lifestyle can throw at it. Find the rich hues of mahogany, or a classic white oak to achieve any interior aesthetic you desire.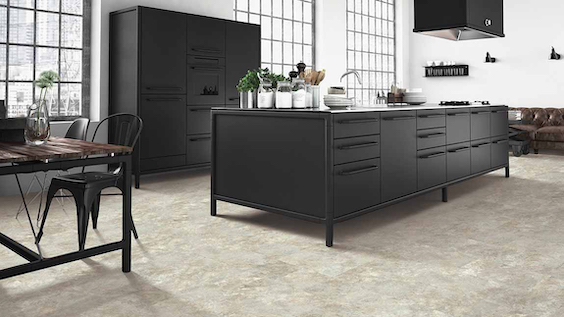 Why Orlando Customers Love Luxury Vinyl Floors
Visit our local Orlando showroom to find a beautiful luxury vinyl selection that provides many style and performance benefits, including the following:
Easy Luxury Vinyl Flooring Maintenance
Vinyl flooring is built to last for many years with proper care. Even the busiest households with pets, children, and heavy daily use can keep their vinyl flooring clean with a little effort. The application of soap, water, and a mop will easily remove spills or messes. While some customers' allergies may be easily aggravated, our luxury vinyl decreases the accumulation of pollen and dander, giving seasonal relief to many.
Waterproof Luxury Vinyl Performance
There's nothing quite as charming as the look of new tile or wood-look vinyl in your home. However, trying to keep your new floors looking clean and beautiful can feel like a fruitless endeavor when you have children and pets running about. Due to its waterproof composition, vinyl floors can be used in any room, including bathrooms, laundry rooms, basements, and other moisture-prone areas.
Lasting Durability
This beautiful and durable material offers homeowners a luxury look that holds up to regular use. Because this material is built to hold up to regular use, it is a popular choice for those living in busy households with children and pets.
Stylish Selections at Affordable Prices
Many people dream of adding the regal appearance of hardwood or the calming appeal of tile to their homes. If you are looking for a cost-effective alternative to these natural flooring products, luxury vinyl flooring is the perfect solution.
Professional Luxury Vinyl Flooring Installation Services
Many homeowners believe that a flooring installation involves nothing more than laying down a few planks and tiles. However, this project is best left to a professional to handle, due to the details involved in the job. When you work with us for your luxury vinyl flooring installation, you can trust that your new materials will be placed in the proper position. We focus on the details to ensure that you will not have to deal with crooked tiles, broken planks, or other issues caused by a faulty installation. As a result, your new floors will hold their looks for many years to come.
With your satisfaction as our priority, we ensure your peace of mind throughout the entire installation process. Our Adore Your Floor Guarantee promises you will love your new floors. If not, we will fix or replace any installation-related issues at no extra cost to you.
Contact us today to learn more about all our luxury vinyl flooring selections! We proudly serve Winter Park, Kissimmee, and Orlando, Florida, as well as the surrounding communities.