Hardwood Flooring in Orlando, FL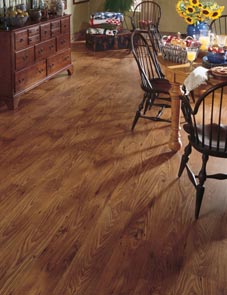 Revitalize your space with genuine hardwood flooring in Orlando, FL. Rich in color and rustic appeal, hardwood floors provide an instantly recognizable. For premium hardwood selections, come to Flooring America Orlando. At our expansive showroom, we proudly showcase a broad selection of hardwood products.
Increase the appeal and value of your home. Hardwood offers a timeless look and proven durability that makes it one of the most desirable flooring choices available. From solid wood to hardwood planks and engineered hardwood flooring, we feature the highest quality choices fit for any room in the home.
Top Selections from Flooring Manufacturing Giants
Offering an unmistakable look, hardwood floors bring warmth to any interior space. At our store, you'll find many designer-quality choices from some of the industry's leading names, some of which include:
Reliable Guidance Every Step of the Way
Explore the vast array of flooring materials available at our fully stocked showroom including solid, prefinished and engineered hardwood flooring. With so many options to consider such as color, grain, and species, finding the right choice for your project could feel overwhelming. That's why our dedicated specialists are always on hand, ready to help you find a solution that perfectly meets your needs.
Let our specialists provide you with samples of our stunning, versatile wood flooring options. Depending on distinct characteristics of your home as well as the nature of your project, we can guide you towards a selection that best fits your needs regarding looks, performance, and price. You are sure to find an exceptional option when you turn to our knowledgeable specialists.
Professional Hardwood Flooring Installation
Ensure every inch of your new flooring is perfectly placed with professional installation. Trust our skilled crew to handle every aspect of the process for you. Feel confident with the high level of dependability and expertise we bring to every installation = we perform.
No matter what you want to achieve with your flooring project, we're prepared to lay your new selection precisely into place. Whether we're replacing your living room floors or laying engineered hardwood flooring in a moisture-prone space, you can rest assured that our experienced installation crew has all your bases covered.
Contact us to discover all the hardwood flooring options that are available to you. We proudly serve customers in Orlando and Winter Park, Florida, as well as the surrounding areas.