Hardwood Floors in Orlando, FL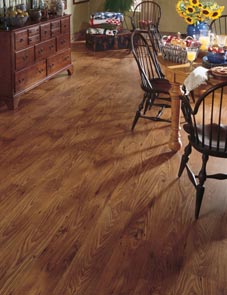 Select the elegance of hardwood flooring in Orlando, FL, for your home. Did you know that adding hardwood flooring to your home or business not only increases the appeal, but also boosts the property value? It is true, whether you choose solid or engineered hardwood flooring.
Visit our local flooring store to select brand names of engineered and solid hardwood flooring. Choose from the most trusted names in the flooring industry--manufacturing giants, such as Mannington, Armstrong, and Mohawk. We stock our store with brand names because they provide you with quality, style, and a wide selection.
Hardwood flooring is among the most desired options in floor coverings. Our customers love the unique beauty of wood with the variations in species, grains, glosses, and styles. Ask the design and sales professionals in our flooring showroom to help you select the hardwood planks or strips that best meet your needs. We take decorating style, lifestyle choices, and placement of hardwood flooring into consideration when we make recommendations for you.
Understanding Your Selection of Hardwood Products
You may love hardwood floors, but wonder if this type of flooring is right for your home setting. Depending on the distinct characteristics of your home, we can guide you toward the floors that best fit your needs in looks, performance, and price. We offer engineered hardwood floors, which are manufactured for use in rooms with high and varying levels of humidity. Let us show you samples of this stunning and versatile wood flooring.
Engineered wood flooring looks and performs like solid hardwood because it is made of solid hardwood. As such, you are welcome to view our collection and find the right samples to match your project needs. The rugged construction of engineered wood flooring makes this option a great selection for areas that are prone to moisture. In fact, this flooring option is right at home amongst homes with high humidity. This added performance and ruggedness also comes complete with the familiar aesthetics of wood. From the grain pattern to the distinct, underfoot feeling, engineered hardwood flooring is a great choice for any property.
Solid hardwood has long been regarded as the pinnacle of majesty and elegance. Our selections of this type of wood flooring are known to last as long as a century. This is because solid hardwood is milled from a single piece of wood. The wood species is consistent throughout the depth of each plank. Because of this, solid wood can be sanded down and refinished after many years when it becomes worn. Homeowners can refinish solid wood several times over and extend the lifetime of this flooring. As you would expect of flooring made from trees, this flooring is tough and durable.
Impart a timeless aesthetic appeal to your property with solid hardwood. This flooring material is available in many different tree species, including pine, beech, mahogany, and cherry. You are also welcome to add onto your customization options with different finishes. Finished hardwood allows you to add a radiant, earthly glow to your interior. Many different hues are available, giving you the opportunity to give any space a stunning red or golden appearance. As always, you can count on our helpful flooring associates to choose the right configuration for your next remodeling project.
The rustic, well-worn aesthetic imparts a sense of rugged beauty to any interior. To that end, our flooring showroom proudly offers a wide array of handscraped hardwood options to all customers. As its name suggests, handscraping is a process that involves intentionally carving divots and streaks into a wood plank before finishing. This gives the hardwood a worn and weathered appearance. It also provides a unique walking experience when friends and family tread barefoot on your floor.
Invoke the spirit of a long-gone era with handscraped planks. Thanks to contemporary manufacturing and design processes, every handscraped plank takes on a unique appearance and texture, while remaining sensible on your budget. Along with our vast species and finishing options, handscraped flooring allows you to build a unique space on your terms.
Prompt & Professional Hardwood Flooring Installation
Schedule an appointment with the flooring technicians at our local store to install your engineered or solid hardwood floors. Professional hardwood flooring installation is essential to safeguard the wood planks from damage. Three days before installation, expect the solid wood planks to arrive at your home to get acclimated to the moisture levels in the house. This step is not needed with engineered hardwood.
You can install engineered hardwood in any room of your house, even the bathroom and the kitchen. This is because this type of wood flooring is designed so it does not react to moisture. The top layer of engineered wood consists of a veneer of the wood species of your choice with sturdy layers of high-density fiberboard underneath.
Do you have an idea for a beautiful interior, but aren't sure which direction to take your next re-flooring project? There's no need to worry; we have you covered. Our sales team also acts as your design consultants. We provide hassle-free consultations that prioritize your project goals. After listening to your needs and preferences carefully, we can help you narrow your choices so you pick the hardwood flooring product that matches your specific requirements. We make remodeling a simple and rewarding experience.
Our skilled and experienced technicians arrive on time and with tools and equipment in hand. We remove the old flooring and prepare the subfloor. Each plank is laid carefully with attention to detail that includes making sure it is flat and secure. As a result, you gain a beautiful interior that will uphold its luster for years.
If you would like, one of our professionals can come to your property for a free consultation. We show up at your home or business with samples so you can truly see how different species and styles look in the proper setting.

Contact us today for more information about our 12 month financing plans and for help choosing the right type of hardwood flooring for your home or business. We proudly serve residential and commercial customers in Orlando and Winter Park, Florida, as well as the surrounding areas.