Hardwood Flooring in Orlando, FL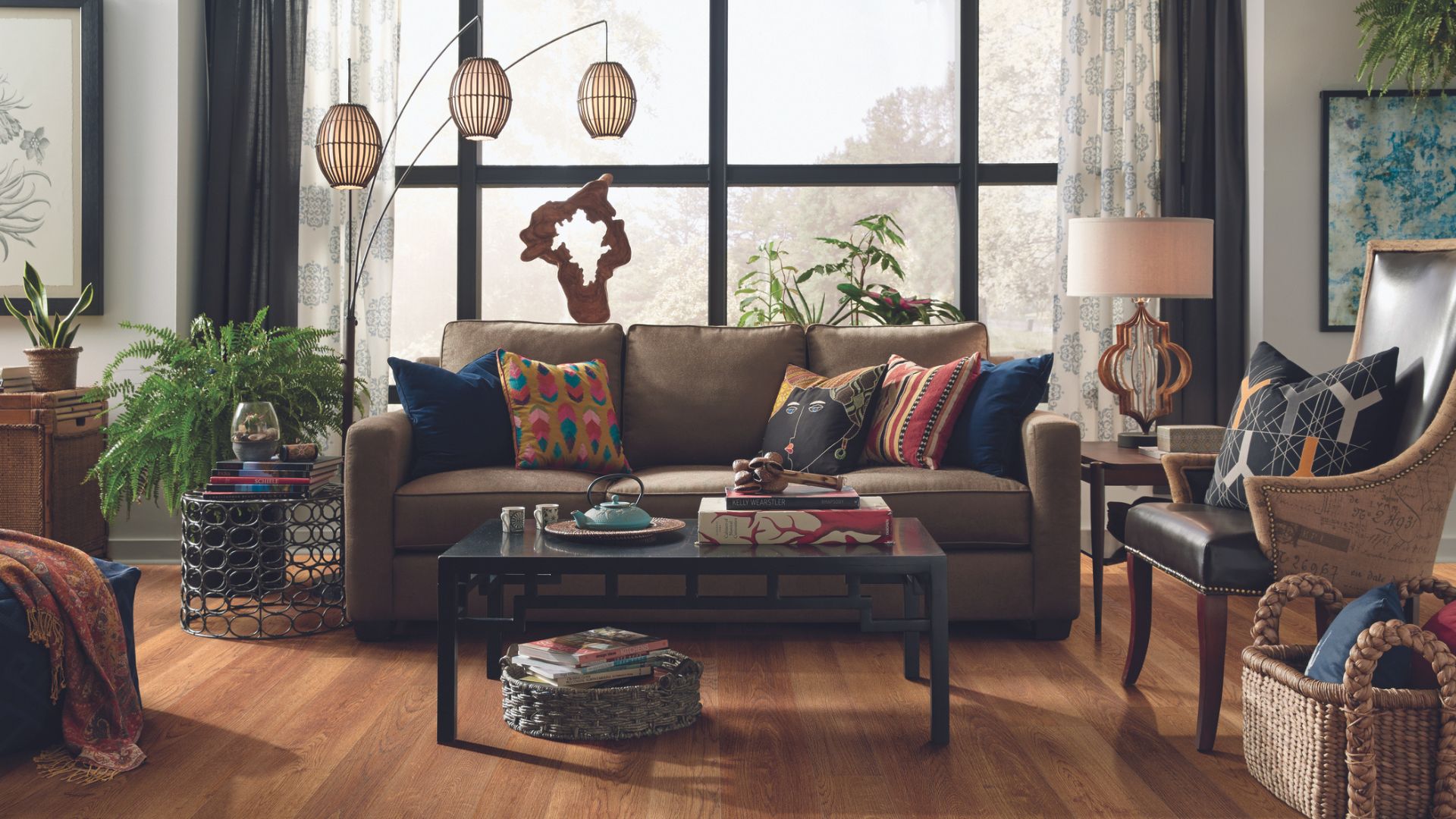 Elevate the allure of your residence with the organic elegance of hardwood flooring, exclusively at Carr's Flooring America in the heart of Orlando, FL. Discover a diverse selection of wood types, each showcasing its distinctive charm. Delve into the luxurious richness of mahogany or opt for the airy sophistication of oak and elm. Step inside our welcoming showroom, accessible to all, where a treasure trove of customizable hardwood options awaits your creative touch – from finishes that gleam with gloss to precision cuts and artistic flourishes.
Whether you're drawn to refined grains or captivating textures, our choices empower you to infuse your living spaces with an aura of refined sophistication, be it a rustic haven or a contemporary haven. At Carr's Flooring America, our extensive inventory is a testament to our reputation as the premier flooring provider in Orlando.
Elevate the allure and the value of your abode by embracing the timeless beauty of hardwood flooring. Revered for its enduring charm and unwavering durability, hardwood remains a beloved choice among flooring options. Our catalog spans a spectrum of excellence, encompassing solid wood, hardwood planks, and engineered hardwood flooring, ensuring the perfect fit for every corner of your home. Contact our seasoned experts to embark on an obligation-free consultation designed to kickstart your journey. Better yet, step into our showroom, where the realm of possibilities for your residential or commercial space unfurls before your eyes.
Why Choose Hardwood Flooring for Your Orlando Home?
When it comes to upgrading your home, hardwood flooring is a clear winner! Not only does it bring a touch of timeless elegance to your space, but it also offers many fantastic benefits that you'll love. Check out why hardwood is the ultimate choice for your flooring needs:
Unmatched Durability: With hardwood floors, you're investing in flooring that can stand the test of time. It's tough enough to handle our lively Florida lifestyles, from kids and pets to those summer beach days!
Easy to Clean: Say goodbye to hours of scrubbing. Hardwood floors are a breeze to maintain and keep clean. Just a quick sweep and a damp mop, and you're good to go!
Healthy Indoor Air: For our allergy-prone friends, here's a bonus: hardwood floors don't trap dust, pet dander, or allergens like carpets do. Say hello to cleaner, healthier indoor air.
Natural Beauty: Each plank is a unique work of art, showcasing real wood's natural patterns and colors. It brings warmth and charm that no other flooring can match.
Versatile Styles: From classic oak to hickory, our hardwood options suit any decor style, whether you prefer a cozy cottage feel or a modern aesthetic.
Adds Value to Your Home: Hardwood flooring is a smart investment. Not only does it increase your home's resale value, but it also makes it more appealing to potential buyers.
Durable & Innovative Engineered Hardwood in Orlando
Step into the future of flooring with engineered hardwood floors from Carr's Flooring America. Experience the blend of strength and versatility as layers of plywood-like materials unite to create a moisture-resistant beauty. Enhanced with a genuine wood veneer, these planks exude the classic hardwood look and feel while remaining impervious to warping and swelling, even in Orlando's humid climate.
Embrace this flooring wonder in high-moisture spaces like bathrooms and kitchens, where traditional hardwood might falter. Elevate your home with the perfect mix of aesthetics and practicality, tailored specifically for Orlando living.
Ready to explore the beauty of engineered hardwood? Visit Carr's Flooring America, where our friendly experts will guide you through the captivating options, helping you choose the ideal flooring solution for your space. Transform your home today!
Hardwood Floors and Orlando's Humidity
In the moisture-rich Orlando, FL, hardwood floors are an exceptional choice. With its layered composition, engineered hardwood triumphs over solid wood with its remarkable resistance to humidity. Its cross-directional lamination ensures stability, effectively curbing expansion and contraction caused by fluctuating humidity levels. This quality makes it an ideal selection for areas susceptible to moisture, including bathrooms, kitchens, and basements.
For sustained performance, meticulous acclimatization and professional installation are paramount. Allowing hardwood planks to acclimate to indoor conditions and enlisting skilled professionals for installation mitigate the impact of humidity. Augment the longevity of your hardwood floors by implementing humidity control measures such as dehumidifiers and effective ventilation. Revel in the timeless splendor of hardwood floors in Orlando, free from the anxieties of humidity-induced concerns!
Professional Hardwood Flooring Installation
Installing hardwood flooring is a delicate process that requires ample space and precision to detail. Trust our expert team of flooring installers to lay your new floors accurately. Hardwood can be a grand investment, and you can rely on us to help ensure every dollar is worthwhile. Carr's Flooring America will accurately order the correct material and arrive at a time that works best for you to minimize household disruptions. We will use state-of-the-art equipment to ensure every plank fits perfectly around your walls and furnishings.
Our Ultimate Confidence Guarantee backs our promise to customer satisfaction. If you are dissatisfied with our installation, call, and we can perform any necessary repairs free of charge.


Contact us to learn more about our available hardwood flooring solutions. Our services cover clients in Orlando, Winter Park, Kissimmee, FL, and surrounding areas.