Carpet in Orlando, FL
When you want to update your interior with the soft comfort of carpet in Orlando, FL, turn to the professionals at Carr's Flooring America. Our showroom features a broad array of plush, stylish carpets in a complete range of colors and textures. Carpet is a classic flooring choice that works with all home designs, and our carpet store is where you will find the perfect match for your project and budget. Our helpful carpet specialists will help you select the best carpet for your needs and finish the job with a professional carpet installation. Visit our Orlando, Florida, showroom today to learn more about all things carpet!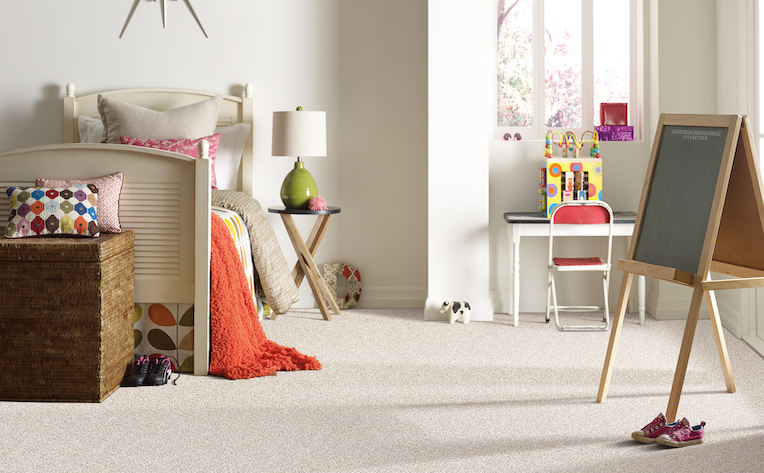 Types of Carpet Available
Our friendly and knowledgeable design specialists will help you navigate our wide selection and help you choose the new carpet that works best for your home. We have all the resources you need to achieve a successful indoor carpet upgrade. When you shop with us, you have access to some of today's most sought-after styles, including the following types of carpet:
Frieze
Frieze carpet brings a soft, plush feeling that is especially popular in bedrooms and living rooms. You'll love how cozy the loosely twisted carpet fibers make your space. Even better, Frieze carpet is excellent at hiding dirt between vacuums.
Berber
Enjoy the durability of Berber's woven or tufted looped carpet fibers. This type of carpet is ideal for homes with kids and pets as it does not shed, pull, or stain easily. Offered in a variety of colors and patterns, you can find a look that matches your desired interior look.
Texture
Textured carpet offers a resilient, plush feel composed of level carpet fibers. One of our most popular choices among our Orlando, FL, customers, textured carpet is the perfect solution for affordable, soft-to-touch carpet.
Cut/Uncut
Depending on your lifestyle needs and design preferences, you can choose between cut loop carpet fibers or looped carpet fibers. Cut loop carpet offers a snag-free experience that is helpful in homes with pets, whereas looped carpet fibers bring additional durability in high traffic areas perfect for entryways, stairs, and more.
Benefits of Carpet for Your Orlando Home
Here at Carr's Flooring America, we truly listen to our customer's needs and wants to carefully select carpets that satisfy in all regards. You can choose products from the industry's most trusted carpet brands, such as Dixie, Masland, Fabrica, Stanton, and more. Carpet continues to be a popular flooring choice in Florida for its many benefits, which include the following:
Variety of colors, patterns, and textures for a beautiful interior design.
Softness underfoot adds slip resistance ideal for families with small children.
Improves insulation and sound absorption to keep your home cool, reduce energy costs, and create a quieter home environment.
Adds a comfortable, cozy feel for a peaceful ambiance.
Affordable carpet options to meet any budget.
Water and stain-resistant carpets are easier to clean than ever.
Quick installations make for a faster home renovation project.
Enjoy Easy Carpet Care
If you are tired of spending so much time cleaning, carpet is a smart flooring choice. With advanced technology, carpet is made from materials that repel water, dirt, and stains, so you can enjoy worry-free living. In households that see constant activity, you can enjoy a flecked or patterned carpet that hides daily dirt buildup until you're ready to vacuum. To best care for your carpet, follow these easy maintenance steps:
Vacuum your carpet frequently.
Have a deep clean yearly to remove stains and refresh the carpet fibers.
Remove spills with a manufacturer-recommended carpet cleaner.
Avoid using harsh chemicals that could damage the carpet fibers.
Professional Carpet Installations Guaranteed to Last
Helping you find your favorite new carpet is just the beginning of the customer service experience at our showroom. After your purchase, we will come to you and provide a professional carpet installation. Our experienced installers ensure that the job is done right the first time for optimized product appearance and longevity.
Our service is backed by our Ultimate Confidence Guarantee. If you experience any installation-related issues, just contact us within 30 days and we will fix or replace your carpet at no extra cost to you. When you visit our Orlando store, you'll see why we are the area's leading carpet store!
Local Carpet Store Committed to Your Satisfaction
Our flooring experts make your total satisfaction with our products and services priority number one. When it comes to remodeling your home or office, you need a flooring store that offers durable, attractive carpets and full customer support. You'll find both when you come to our flooring outlet. Our team does everything you need to complete a successful project from start to finish. Stop by our showroom when you are ready to get started. The beautiful carpeting you'll find in our collection has something for every preference and budget.
Contact us for more information on our carpet selection. We proudly serve customers in Orlando, and Winter Park, Florida, as well as the surrounding areas!